The citizen platform Consul is used by Madrid and over thirty other cities in Spain, as well as several cities in Latin America. In the last few months it has also been used by the social housing company of Paris for participatory budgeting and the British People's Momentum for their annual meeting. This makes it one of the most interesting and well used open source projects for deliberative democracy right now.
Many of the organisations and social movements that we in Digidem Lab are in contact with are impressed by the possibilities of Consul. But it is also hard to demo the tool for them, and show them what their next step for implementing it would be.
Although a very useful tool with a wide range of use cases, the installation and setup process requires a lot from its administrators, and is something we believe is holding it back from being more widely used.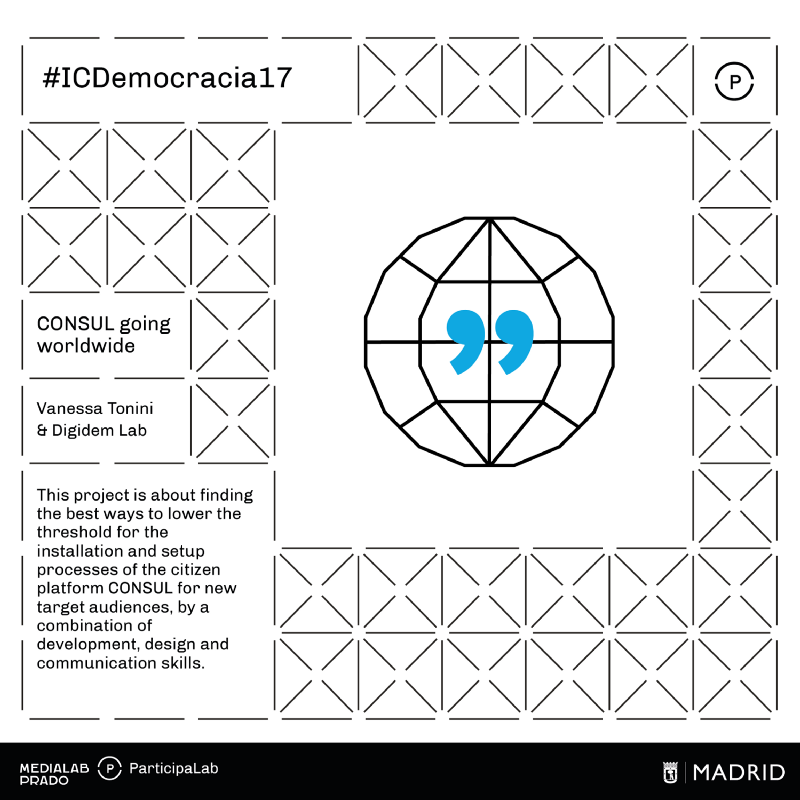 Adapting to new needs
With the new target audiences for Consul (cities abroad, NGO:s, different kind of participatory budgets), we need to look at the user journeys for adapting the tool for the different users and see how to best meet their needs and expectations.
This project is about finding the best ways to lower the threshold for the installation and setup process for these new target audiences. With an interdisciplinary team of marketers, developers and designers, we would be able to tackle many of the obstacles to wider implementation of Consul and provide a clear step by step process for any organisation interested in implementing and adapting it.
Any self hosted platform will of course have the problem of needing people with technical expertise. But some open source platforms, like for example Nextcloud, has shown an ability to meet their users half way by providing a range of options for installations, demo versions and documentation.
Finding the pain points
We will work in two phases, by first identifying new target audiences, their needs and pain points; then work iteratively on the setup process and documentation.
In the first phase we will get to know the users by defining target audiences, researching user experiences, defining personas and drawing user journeys.
Defining new target audiences: Which are the new groups using Consul, and how do we pinpoint and define these new users?
Researching user experiences: Interviewing for example Open Source Politics from France and Peoples Momentum from the UK about their experiences from using Consul in new contexts.
Personas and user journeys: Defining detailed profiles for our new personas. Creating user journeys for how the personas ideally would come to adopt Consul. Identifying pain points and obstacles where improvements in the documentation and installation process can be made.
Working on improvements in iterations
In the next stage, we work on improvements in iterations looking at for example automated installation options; a clearly designed installation guide; pre-configured installation profiles or demo versions based on the known user cases like citizen platforms, annual meetings, participatory budgeting.
Automated installation: Help the Consul development team with automated installation scripts for Ansible or Heroku. There are some progress in making Docker images that we could develop further.
Installation guide: There is a new drafted text from the Consul team. We could design and set up a manual in for example Read the docs or Hexo and work on the texts. Another option to explore is to make instruction videos for the different user cases.
Installation profiles and demo versions: The Consul team is working on a preconfigured setup file that we could extend to cover more cases that would be useful for demo versions.
Going worldwide
We are collaborating with the Consul development team to contribute to their work and base this development on their future needs. They are already making progress in these three areas, that we could feed into and develop further during the lab.
The overall theme is to make the installation and setup process easier and more accessible, to make it go worldwide! While these are general ideas about how to do it, the exact ways will depend on the identification of personas and user journeys, our contact with the Consul team, and the input and different skills that the working team contribute with during the lab.